Proposal to build a gymnasium for the arts in Athens, Greece
Papalampropoulos Architecture Agency | Syriopoulou presents 'Gymnasium', a proposal for an artistic building to be integrated into a middle School campus in Athens, Greece. The project refers to the typology of the ancient Greek gymnasium in the process of restructuring the site from a jumble of conflicting spatial and conceptual correlations towards a new spatial continuity. The result is an elongated pink structure with linear promenades and open-air plateaus, housing both educational functions and exhibition spaces.
view from the main access road
all images courtesy of Papalamppropoulos | Syriopoulou
establish spatial continuity
The site is delimited by a continuous plateau of sports activities (basketball, volleyball, handball) and a car park which disturbs the natural slope. papalamppropoulos | Syriopoulou (see more here) saw in this immediate vicinity of heterogeneous activities an opportunity to redefine spatial, typological and conceptual identities rather than a design compromise.
The proposal refers to the typology of the old gymnasium in the process of restructuring the plateau from a jumble of contradictory correlations into a new spatial constant. Parallel to the evolution of the typology of the gymnasium, its function as a public building dedicated to physical exercise is gradually transformed and ends up integrating research and the teaching of spiritual and political issues.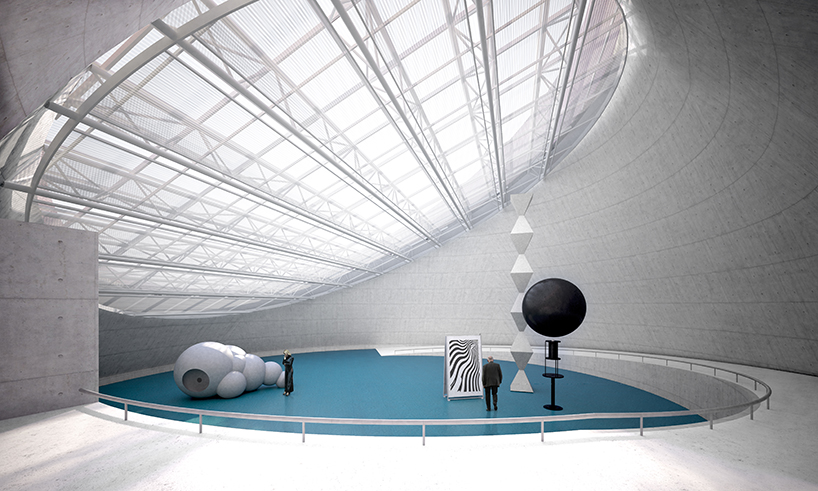 the main exhibition space
superimposed levels and open shelves
The proposal attempts a gradual mutation of the type by bringing together two linear parts, a gallery and a sequence of enclosures, in a T-shaped plan between two nested levels that correspond to the two distinct sections of the building program: Educational Center and Exhibition Hall . The remaining voids shape the plateaus that host sporting activities at the northeast end and open-air cultural events at the southwest end.
The fusion of indoor and outdoor programs is achieved through the sloping roof of the Educational Center wing which harmoniously forms an amphitheater facing the plateaus. The central exhibition hall is presented as an autonomous architectural element, a nave of central importance to the complex which constitutes the only intentional deviation from the type. With the intention of functioning as an open studio for artistic research, the design of the showroom diversifies from the typical white cube paradigm. Automatically controlled light reflectors and rollers control the flow of natural light inside the hall.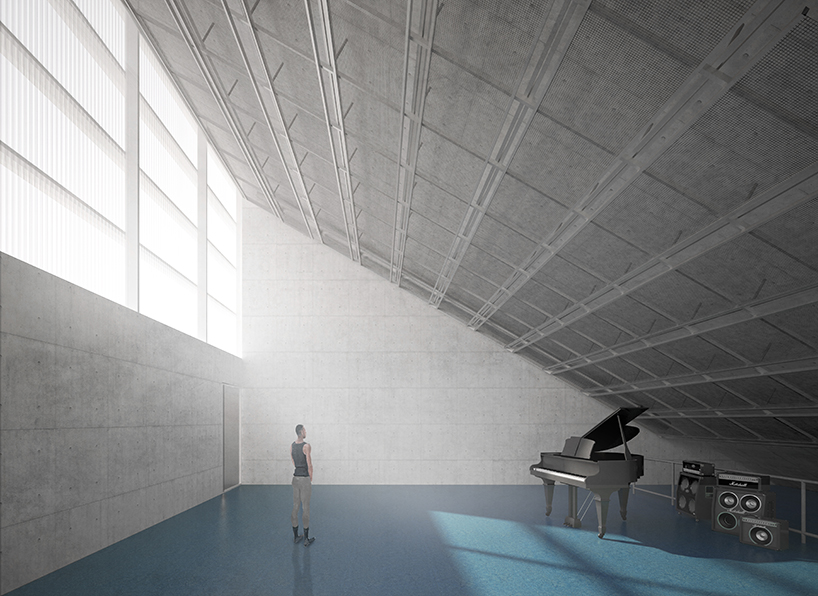 the music room