Visit the Copley Crypt Chapel
After his conversation at Gaston Hall, Mitsotakis visited the newly renovated Copley Crypt Chapel in Georgetown, Georgetown's home for Orthodox Christian liturgical services, with his family and Papadopoulou, the Greek ambassador to the United States.
He was joined by Fr. Mark Bosco, SJ, Vice President of Mission & Ministry in Georgetown, Fr. David Pratt, Georgetown Orthodox Christian Chaplain, and Georgetown Board Member Mike Psaros.
In October, Georgetown also hosted the Ecumenical Patriarch Bartholomewsenior hierarch of more than 250 million Orthodox Christians, at Copley Crypt.
"I am so proud of Georgetown's ecumenical embrace of the Holy Orthodox Church and of the genuine warmth, affection and respect extended to His All Holiness Ecumenical Patriarch Bartholomew during his historic visit to Georgetown in October 2021," said Georgetown member Mike Psaros. Board of Directors, said during his introductory address at Gaston Hall. "And now Georgetown can say that in one year it has hosted the Prime Minister of the Hellenic Republic and the Ecumenical Patriarch of Constantinople."
Georgetown students react to Mitsotakis
Sophia Yphantides (SFS'22) visited Greece in her second year at Georgetown with the American Hellenic Institute in Washington, DC. As a Greek-American, she said she was hopeful about Greece's progress in the years that followed and was impressed with Mitsotakis' diplomatic and outspoken responses and strong positions. .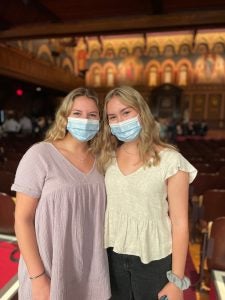 "It made me very proud to be a Greek American and a student from Georgetown," she said. "To hear how he made Greece more central and brought the conversation to both sides of the aisle, I think the United States has a lot to learn from that, especially at a time when there are issues that should transcend political divisions."
Elena Iliadis (C'23), a Greek-American, and Samantha Deutsch (SFS'25) were both thrilled to hear a preview of Mitsotakis' political meetings on the Hill ahead of many policymakers, they said. .
"It was great that we, as students, were the first to hear some of the things he finds most pressing and will address later, probably even before the folks on Capitol Hill and the House Blanche won't hear from later this week," Deutsch said.
"My family was so excited he was going to talk," Iliadis said. "It's something you don't see anywhere as a student; it's something unique to Georgetown, specifically a free event on campus. It's a huge honor as a Greek American.
4 other catches of Mitsotakis
On rising energy price costs:
"We need to pool our European resources as we have done with COVID-19 to offer short-term relief to our citizens. Otherwise, we will be placed in a position where our citizens will be more and more angry, and they will not see the logic and the importance of defending Ukraine because they will be concerned about the cost of living. It will therefore be an opportunity to also discuss with the President how we can work together, and I am speaking here as a European, not only as the Greek Prime Minister, about the way in which Europe and the States United States can work together to alleviate what I consider to be a gas market that is essentially not working properly.
On whether he will discuss Turkey with Biden:
"This is a meeting to strengthen our bilateral relations. I am not defining Greece's interests against anyone else. I'm here to talk about Greece and how Greece can work with the United States to further strengthen what I believe is an exceptionally strong partnership… Our goal is never to exclude or isolate Turkey . I want to be very clear on this… The more we find ways to constructively engage with Turkey and bring them on board, provided they play by the rules, the better it will be for everyone.

On Turkish of President Tayyip Erdogan Dissidence of Sweden and Finland joining NATO:
"I expect this issue to be resolved as soon as possible. I don't see any impetus from any country to block Sweden and Finland from entering the alliance. You have to realize how much c is a major change for the architecture of Europe… I don't think it's really the time to use NATO membership of two friendly countries as bargaining chips. back against us if Turkey goes down this path. I think that's wrong in principle. I think it's also wrong in terms of tactics. So I just don't see that happening.
On the lessons learned from the Greek economic crisis
"The only lesson I have learned is to make sure we don't live in our little intellectual elite bubble. The grievances that fuel corporate resentment are real. We can't afford to ignore them or not giving them the proper level of attention. Inequality is a real problem. The cost of living today is a real problem that needs to be tackled. Until we address the underlying root causes that lead to this resentment and the toxicity of public debate, we will have failed to address the cause of this intensity in public debate in the first place."