The University of Utah announced Monday that it will suspend all fraternity and sorority activities after a second student came forward to report a sexual assault that took place at a fraternity house. (Don Grayston, Deseret News)
Estimated reading time: 3-4 minutes
SALT LAKE CITY — The University of Utah has announced it will suspend all fraternity and sorority activities after a second student came forward to report a sexual assault that took place at a U.
"Last week, a campus safety notification was emailed to all students, faculty, and staff regarding a sexual assault at one of the University of Utah fraternity houses. The university has issued a warning based on the university's interpretation of the Clery Act," Vice President of Student Affairs Lori McDonald and Dean of Students Jason Ramirez wrote in a letter to the campus community.
After this notification, the U. received an additional anonymous report of a sexual assault that occurred in early December at another fraternity home.
Following these two reports, McDonald and Ramirez wrote: "All social activities of the fraternity and sorority chapters of the University of Utah have been suspended for two weeks. Philanthropic and business operations may be continue in the chapter houses, but social gatherings are not permitted."
Additionally, university management plans to meet with Greek life leaders to "discuss these incidents, the culture of their organizations, and next steps to improve safety, accountability, and transparency within the community." ", says the letter.
"Fraternities and sororities have operated adjacent to our campus for over 100 years. These independent organizations have been permitted to affiliate with the university on the understanding that they will serve the greater good of the campus community – by developing skills in leadership, service and community engagement among their members," according to the letter.
On January 26, the university issued a security alert, notifying members of the campus community of a September assault at the Kappa Sigma House.
According to a blog post by Allie Moore, a student employee at the McCluskey Center for Violence Prevention in the United States, the alert sparked a flurry of people coming forward to discuss their experiences of sexual assault on the anonymous media app. social Yik Yak, with most experiences involving Greek life.
A post from a student, Moore said, states: "The girls will come and grab my face to point out when I'm drunk and they don't see it as a problem. Reverse the roles and it's SA."
Another article states: "I was sexually and physically assaulted in a fraternity as a woman in Greek life, it spoiled my experience to some extent because of the feeling of discomfort and nothing happened, no matter what I said."
Moore explained how, through these posts, she learned that students want to discuss their experiences with sexual assault in college and that they "want to make real and lasting change."
With this discovery, Moore, herself a member of Greek Life, initiated Dialogue for Sisterhood and Sisterhood Life sessions that involve educational discussions about "power imbalances and myths of relationships and violence." sexual".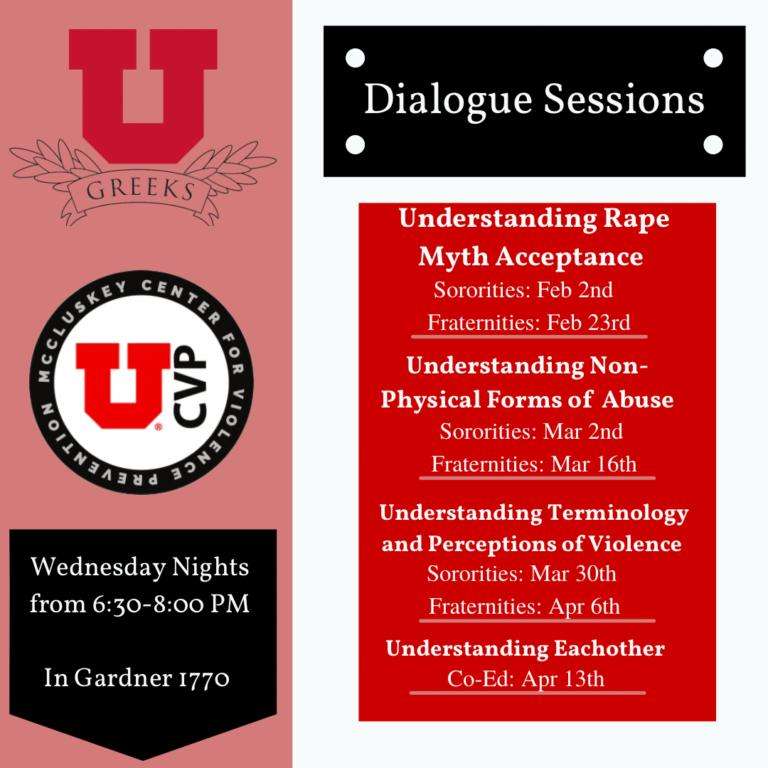 "It allows for the deeper, nuanced conversations that so many students expressed they wanted through their posts on Yik Yak," Moore wrote. "The dialogue sessions will also plan action items that students can take to their individual chapters and the wider Greek community to prevent relationships and sexual violence from occurring."
Moore tries to address this issue from the source and said the responsibility for changing the culture of Greek life and the greater campus community should not lie with the survivors.
"The people who cause harm are the ones who must take responsibility and take action to stop causing harm," she wrote. "By intervening in perpetration through discussion and education, we could reduce the number of reported and unreported cases of sexual assault."
McDonald and Ramirez's letter says students, faculty and staff can contact the university's confidential victim-survivor advocates by calling 801-581-7776 or emailing [email protected] .edu. Those who need immediate support can call 801-585-2677 and ask to speak with an on-call crisis support specialist.
"We stand with these survivors," McDonald and Ramirez said. "If you are a survivor of sexual assault, know that it is not your fault and that there are resources to support you."
×
Related stories
More stories that might interest you